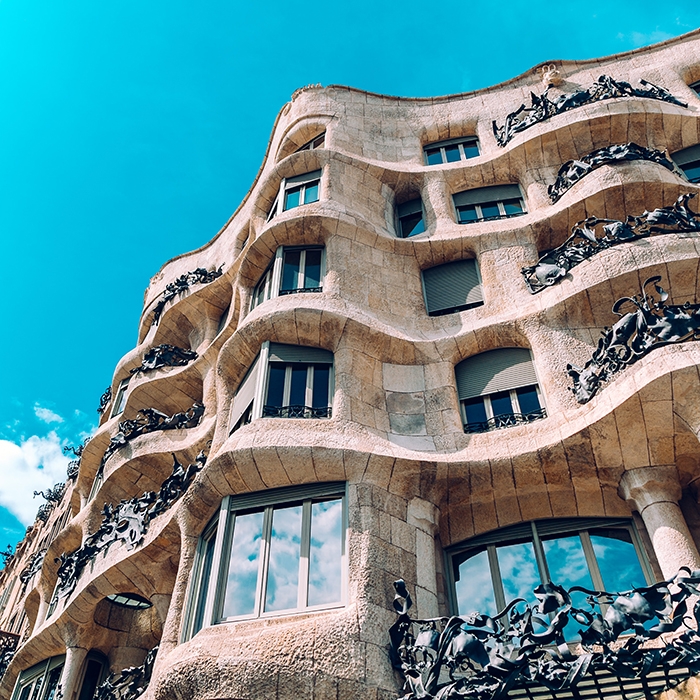 Gaudí it is the most important architect that we had in Barcelona. He was the Frank Lloyd Wright from the 1900 and in the tour we will discover his amazing architecture.
We will visit buildings such as:
👉 Paseo de Gracia with Casa Batlló and Milà (La Pedrera)
And we will visit also one of these two parks:
👉 Citadelle Park (with the magnificent fountain built by Gaudí)
Gastronomical Tours (Tuesday to Saturday)
For those who love gastronomy we will suggest them the Gastronomical or the Tapas Tour
👉 Tapas Tour. We will enjoy together a tapas tour in El Born discovering the wonderful gastronomy with the tapas and magnificent wines.
👉Gastronomical Tour. In this tour we will discover the food markets, historical food shops and also we will try the magnificent tapas in El Born.
This tour will allow us to visit the old Roman city of Barcino visiting:
👉Roman Wall
👉 Roman Temple of Barcino
👉 Roman Forum
👉 Medieval Cathedral
👉 Medieval Palaces
👉 El Born district
👉 Boquería Market (The Market it is closed on Sunday and holidays)
Jewish Quarter Barcelona Tour
We will discover the jewish Heritage in Barcelona visiting:
👉One of the oldest synagogues in Europe
👉Jewish houses and jewish influence in Barcelona.
👉We will also visit the Gothic Quarter with the medieval palaces and roman culture.
Archeological Tour. Ave Cesar!! (Tuesday to Sunday)
For those who like the old Europe it is high recommended this Archeological Tour. Barcelona was foundated by the Emperor Octavio Augusto Cesar. During the tour we will visit the magnificent Barcino/roman Barcelona with the following buildings:
👉Roman walls
👉 Roman forum
👉 Roman baths
👉 Barcelona City History Museum
Barcelona Museum Tours (Tuesday to Saturday)
I recommend this tour for museum lovers, visiting the famous 👉Picasso Museum, where they appreciate Picasso's development from his early works to maturity. Other museums we can visit are:
👉MNAC museum
👉Miró Foundation.
Contemporany Architecture & Sagrada Familia
We will discover the new architecture of:
👉Frank Gehry
👉Herzog and Meurog
👉Benedetta Tagliabue and also the
👉Sagrada Familia built by Gaudí.
For those who loves Sport we offer the Sport Tour visiting:
👉F.C. Barcelona Stadium
👉Montjuic Hill with the Olympic Ring (olympic Stadium, swimmingpools, Telecommunication tower of Santiago Calatrava).
El Barça it is without any doubt one of the big soccer teams in Europe. In our tour we will visit the magnificent museum and also the Stadium with the changing room, the chapell, the press area and of course the Stadium itself.